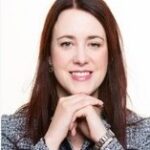 Nicola Bannister has over 20 years of experience in Financial Services working across insurance, investments, retail and business banking. Nicola is currently the Financial Support Director for TSB, leading the strategy, platforms, performance and operational teams for customers in financial difficulty. She is also accountable for the bank's programme responding to the cost of living crisis. Previously Nicola has experience leading large-scale culture change, strategy and planning, risk management and commercial performance. She is also experienced in working with journalists, politicians and the government on financial inclusion.
Nicola is a trustee of Avenues Group which are a specialist provider of support services for people with autism, learning disability and acquired brain injury; she is a member of the Audit & Risk Committee, People Culture and Reward Committee, and the Group Board. Nicola holds a PhD in Classics and a post-graduate qualification in Economics.
Nicola hopes that joining Business in the Community's (BITC) Cost-of-Living Taskforce will allow cross-sector and industry collaboration to help break down the stigma around debt and a broader understanding of the impact it has on people and their families.
About BITC's Cost-of-Living Taskforce
Business in the Community's (BITC) Cost-of-Living Taskforce brings together a group of the most influential and passionate senior executives, committed to delivering the vision that the UK business community demonstrates a world-leading response to the cost-of-living crisis. Additionally, supporting those most disadvantaged and vulnerable in society and using the crisis as a catalyst to make the UK fairer and greener together.
This task force of diverse leaders will shape the outputs for the campaign and innovate together to drive action across business at pace and scale.