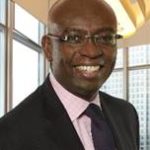 Richard is a Partner and Vice-Chair at KPMG in the UK specialising in taxation in the Financial Services Sector. Richard joined KPMG in 2000 and has been a partner since 2004.
Prior to that he worked as a solicitor in the Tax Department at Simmons & Simmons (the City law firm) and as a VAT specialist with Deloitte, Ernst & Young and also worked for HM Customs & Excise (as it was then called). Richard also practised as a barrister in Nigeria for a couple of years before moving to the United Kingdom.
Richard supports financial institutions with the day-to-day intricacies of their indirect tax affairs including advising on transactions, VAT recovery and understanding the boundaries of the VAT legislation which sometimes includes challenging HMRC's interpretation of the law. Richard is well known on the conference circuit and has written numerous articles.
Richard is the partner sponsor for KPMG's African Caribbean network. This role gives Richard an opportunity to support and mentor colleagues with an Afro-Caribbean background. It also gives him an opportunity to positively engage, shape and drive KPMG's diversity and inclusion strategy.
On 1 October 2020 Richard was appointed to Vice-Chair at KPMG responsible for supporting business and broader society on the big issues that matter
About Business in the Community's Race Leadership Team
Each area of work Business in the Community (BITC) undertakes is led by a group of senior executives who provide strategic guidance and support us in achieving our objectives.
The purpose of BITC's Race Equality Leadership Team is to support employers to help break down the barriers that prevent the progression of ethnic minorities in their workplaces and show how an inclusive organisation better serves its customers, clients and communities.
Find out more about BITC's work on race equality.