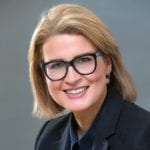 Stacey Sutton manages the employee benefits programme for Morgan Stanley in EMEA (Europe, the Middle East and Africa), as well as overseeing the firm's health and wellbeing strategy. In this role, Stacey led the creation of an EMEA Mental Health Advisory Board, consisting of senior leaders across key business units who sponsor programmes and initiatives to raise awareness of mental health and challenge the associated stigma. Previously Stacey led a variety of projects to foster positive employee engagement and experience. 
Stacey is passionate about leading a preventative health and wellbeing strategy and is committed to fostering a positive culture and opening up the dialogue on mental health in the workplace. Morgan Stanley is focused on taking a holistic and inclusive approach which acknowledges the intrinsic links between social, financial, physical and emotional wellbeing.
Stacey is also extremely interested in workplace environments to support a culture of positive health and wellbeing and she has led on projects to develop employee facilities such as onsite health centres and mindfulness and meditation space.
Prior to joining Morgan Stanley a decade ago, Stacey began her HR career in 2001 at Sainsbury's Supermarkets Ltd, gaining experience in a wide range of areas including HR Business Partnering, Learning and Development and Reward. 
Stacey is married and a mum to two young children, she enjoys family time, as well as exercise and meditation.