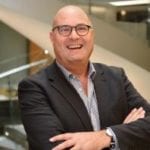 Mark leads the Global Water Business in Arup. He is on the Leadership Council of the UK Water Partnership and is a Board Director of the Water Industry Forum. He is an international authority on urban resilience and water. He is sponsor and lecturer for the Arup University – Massachusetts Institute of Technology (MIT) Sloan Business School course on resilience of urban systems. He is also the global lead for the City Water Resilience Framework developed with Rockefeller Foundation, World Bank and 100 Resilient Cities. Pilot cities include Cape Town, Miami, Mexico, Amman and Hull.
He was made an Arup Fellow in 2017, the first in water.
He is a member of the policy group at the Alliance for Global Water Adaptation (AGWA). This comprises the United States State Department, Dutch government, World Bank, United Nations Framework Convention on Climate Change (UNFCCC), Stockholm International Water Institute (SIWI), World Business Council for Sustainable Development (WBCSD) and International Water Association (IWA).
He gave the global keynote on Blue and Green Cities at the International Conference in Water Sensitive Urban Design in Perth in February 2018. He is providing strategic advice to the Board of WaterCare, a water company in New Zealand.
About Business in the Community's Water Taskforce
Each area of work Business in the Community (BITC) undertakes is led by a group of senior executives who provide strategic guidance and support us in achieving our objectives.
BITC's Water Taskforce is a cross-sectoral group that convenes to collaborate around shared problems on water and the natural environment. They use action research to address challenging environmental issues that impact across sectors and in partnership with government.
The group has identified that cross cutting themes such as innovative financing mechanisms, digital and skills are integral to overcoming environmental challenges that will achieve positive social change.
The taskforce supports BITC's Environment Leadership Team, who are helping business drive innovation that turns the threats of the climate emergency into opportunity for people and nature.
Find out more about BITC's work on the environment.