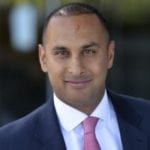 As Vice President/General Manager of Enterprise Rent-A-Car for the North East of England, Sak Gill is responsible for the growth and success of more than 50 rental locations.
Sak has been with the company for nearly 18 years and has played a pivotal role in driving the business forward and enhancing customer experience across the UK and Ireland.
Soon after he graduated with a bachelor of arts in accounting from the University of Central Lancashire, he began his career as a Management Trainee at a rental branch in Stoke-on-Trent. In 2008, he was promoted to Group Rental Manager of Central London, and three years later he took on the role of Group Rental Manager of the West Midlands. In 2015, Sak was promoted to Assistant Vice President of Rental and helped the UK and Ireland teams achieve record profit as well as their highest ever customer service ranking.
In 2017, Sak was promoted to his current role of Vice President/General Manager, where he now oversees business growth in north-east England.
As a passionate advocate of diversity in business, Sak supports diversity and inclusion events across the UK. He is a proud role model for many ethnic minorities starting their Enterprise journey in the same way he did – on the company's management training programme.
Sak chairs Enterprise's national Diversity Committee for the UK and Ireland and has established a mentor programme with the North Division leadership team at Priesthorpe School.
He lives in Harrogate with his wife, Joss, and their daughter, Maizey.
About Business in the Community's Race Leadership Team
Each area of work Business in the Community (BITC) undertakes is led by a group of senior executives who provide strategic guidance and support us in achieving our objectives.
The purpose of BITC's Race Equality Leadership Team is to support employers to help break down the barriers that prevent the progression of ethnic minorities in their workplaces and show how an inclusive organisation better serves its customers, clients and communities.
Find out more about BITC's work on race.
LEARN MORE
Business in the Community is creating a skilled and inclusive workforce for today and tomorrow