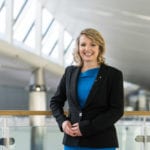 Paula Stannett is an engaging strategic business leader whose ambition is to make Heathrow Airport a great place to work by creating careers, not just jobs, for colleagues and our community. She has worked at Heathrow Airport since 1999, and was appointed Chief People Officer in 2013.
Paula is a highly regarded senior HR executive with a strong track record of developing organisational capability, driving transformational change and growing an inclusive culture. She is passionate about creating opportunities for colleagues by developing essential skills and embracing diversity in its broadest sense at all levels. Paula is an active member of Business in the Community's Future Skills and Good Work Taskforce.
Her previous roles at the UK's busiest airport have included HR Director for the Airports Division, HR Director for Corporate Services, and leading Heathrow's Winter Resilience programme.