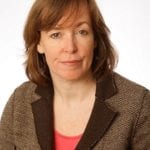 Sarah Rapson is Director, Authorisations at the Financial Conduct Authority (FCA), responsible for ensuring that there is a rigorous gateway for firms and individuals wishing to operate in the UK financial system.
Sarah joined the FCA from the Home Office where, from 2005 to 2010, she was Operations Director at the Identity and Passport Service (now HM Passport Office). She was then appointed Chief Executive. In 2010, Sarah was also appointed by Her Majesty the Queen as the 20th Registrar General for England and Wales, responsible for the civil registration of life events (births, adoptions, marriages, civil partnerships, stillbirths and deaths). In 2014, she was promoted to become the first Director General of UK Visas and Immigration (UKVI), having been interim Director General since April 2013.
UKVI was created in 2013 and is responsible for assessing some 3.5 million applications annually from those wishing to visit or stay in the UK, generating an income of £1bn, and handling about 30,000 asylum claims each year.
As UKVI's first Director General, Sarah established the command as a consistently competent, high performing and customer-focused organisation, oversaw the elimination of historical backlogs in straightforward immigration casework and led UKVI to achieve Customer Service Excellence, as well as Bronze Standard Investors in People accreditation.
As Chief Executive of the Identity and Passport Service, following the 2010 General Election, she led the dismantling of the proposed National Identity Scheme and then a restructuring of passport operations that enabled the service to reduce the passport fee for the first time in its history. Under her leadership, HMPO was consistently ranked as one of top performing public sector organisations for customer service.
Sarah is a member of the Gender Leadership Steering Group of Business in the Community and was a finalist in the 2014 First Women Awards. She was a finalist in the 2016 Civil Service Diversity and Inclusion Awards for her work on Gender Equality.
Before joining the Civil Service in 2005, Sarah's career had been in retail financial services, including management positions at American Express, Barclays and Woolwich plc. She graduated in Mathematics from Lancaster University and holds a MBA in strategy, change management and marketing from London Business School. In 2016, Sarah was named as one of Cranfield University's 100 Women To Watch.
About Business in the Community's Gender Equality Leadership Team
Each area of work Business in the Community (BITC) undertakes is led by a group of senior executives who provide strategic guidance and support us in achieving our objectives.
The purpose of BITC's Gender Equality Leadership Team is to help ensure that women can achieve their full potential at work.
Find out more about BITC's work on gender.
LEARN MORE
Business in the Community is creating a skilled and inclusive workforce for today and tomorrow