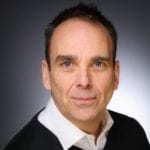 An experienced Board level operator, Jonathan Gawthrop is Executive Director of Wellbeing, Sustainability and Assurance for EMCOR UK.
Jonathan has been with the national facilities management business since 2011, moving to his current position from a regional operational role. Previously a Managing Director for a catering organisation, Jonathan is currently responsible for the development and practical application of EMCOR UK's strategy for health, safety and wellbeing and is the chair of its national health and safety forum.
NEBOSH qualified and a specialist member of IIRSM, he has a Masters degree in Behaviour Change and is a PhD student researching Organisational Health and Wellbeing. A member of the BSI national committee for Occupational Health & Safety ISO 45001, Jonathan acts as an advisory board member for a number of cross industry panels working together to evolve safety and wellbeing throughout the UK.
Based near Norwich, Jonathan is married with children and two grandchildren. His passions outside work include music, literature, exercise and walking his dog.
About BITC's Wellbeing Leadership Team
Each area of work BITC undertakes is led by a group of senior executives who provide strategic guidance and support us in achieving our objectives.
The purpose of BITC's Wellbeing Leadership Team is to build a movement that is committed to positioning health and wellbeing as strategic boardroom issues with a particular focus on mental health; driving collective action through evidence-based, practical solutions.
Find out more about BITC's work on wellbeing.