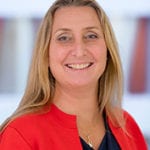 Kirsty has over twenty years' business experience, twelve of which have been in relation to responsible business and sustainability projects. She worked with a global remit for a large multi-national with agricultural supply chains before moving to the legal sector in 2018.
She has experience in terms of strategy, application of the UN Sustainable Development Goals, also known as the Global Goals, business and human rights, stakeholder engagement, sustainability reporting, communications and change management. Kirsty has been a trustee for two charitable foundations and on a pensions' board. As Head of Corporate Responsibility at Burges Salmon her focus sits across progressing the responsible business strategy, social mobility, educational partnerships, community engagement, diversity and inclusion.
Burges Salmon has a long-standing commitment to responsible business, running its own work experience programme for year 10 to 12 students and achieving high levels of engagement with around 55 per cent of their people volunteering. Burges Salmon values the relationship with Business in the Community (BITC) and is pleased to have been a forerunner in the BITC Responsible Business Tracker benchmark.